WATCHING OUT FOR ARIZONA SINCE 1973.
TRADITIONAL VALUES. CUTTING EDGE TECHNOLOGY.
We believe in doing work that we are proud of. Our multi-generation family business knows what customer service used to mean, and we're committed to that same white-glove service that has cemented our relationship with prominent brands throughout the valley. Our team of highly trained installation and service technicians solve a range of security scenarios through on-site consultation, system design, and installation of the latest in security technology. From security and video surveillance to intercoms and access management control, we offer the most trusted security brands, backed by our decades of expertise and lifelong commitment to outstanding, prompt, customer service.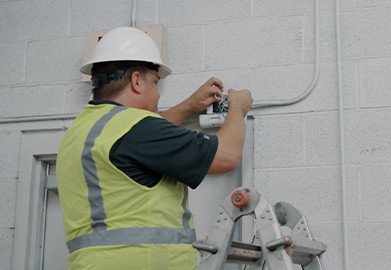 CENTRALLY LOCATED NEAR SKY HARBOR AIRPORT.
When it comes to security, there's no such thing as one size fits all. We custom tailor security solutions for your specific needs, utilizing decades of experience in access management and ongoing surveillance. Whether it be an alarm system, security surveillance system, intercoms, an access control management system, or a combination of all three, we can tailor the perfect system for your level of security. Even better, we work with tight turnarounds and reliable delivery dates to make sure you always have all your bases covered.
We utilize only commercial grade, top of the line brand name equipment and our own licensed technicians to ensure superior installation, service, and peace of mind. In our own security showroom, we can demonstrate the quality and features of all the components in your security system so you can see firsthand the superior quality, benefits, and ease of use of your new custom security solution. We promise to deliver quality you can trust, with the same level of thought and care that you'd put into it yourself.